RR
USA, 2007, 16mm, 115 min
A Screening as Part of THE DEVIL,…
Saturday, January 25, 7pm at NWFC
For two and a half years, James Benning trespassed and filmed trains without permission. The act is not an unlikely one for Benning, who has spent his career making motion pictures of relatively motionless places. Responding to the economic and environmental histories of trains as the primary system of distribution in the last two American centuries, RR is a progression of static shots: an empty frame is filled with a train, its length passes the camera, and when one train leaves, a new shot is established and entered by another train's entirety. This structural principle occurs 43 times in a wide stretch of the American landscape. As soon as the film begins to go down, almost without protest, as a landscape affair about the places delineated by and for the railroad, we see a mile long coal train pass through eastern Wyoming and hear Dwight D. Eisenhower's Military-industrial complex speech from 1961, "In the councils of government, we must guard against the acquisition of unwarranted influence, whether sought or unsought, by the military-industrial complex. The potential for the disastrous rise of misplaced power exists and will persist."
James Benning was born in 1942 in Milwaukee, Wisconsin, during World War II "in a German working class community that sent its sons to fight their cousins. My father worked on the assembly line for a heavy industry corporation that was then building landing gear for the U.S. military. Later he became a self-taught building designer. I played baseball for the first 20 years of my life receiving a degree in mathematics while playing on a baseball scholarship. I dropped out of graduate school to deny my military deferment (my friends were dying in Viet Nam) and worked with migrant workers in Colorado teaching their children how to read and write. Later I helped start a commodities food program that fed the poor in the Missouri Ozarks. At the age of 33 I received an MFA from the University of Wisconsin where I studied with David Bordwell. For the next four years I taught filmmaking at Northwestern University, University of Wisconsin, University of Oklahoma and the University of California San Diego. In 1980 I moved to lower Manhattan making films with the aid of grant and German Television money. After eight years in New York I moved to Val Verde, California, where I currently reside teaching film/video at California Institute of the Arts. In the past twenty-five years I have completed fourteen feature length films that have shown in many different venues across the world."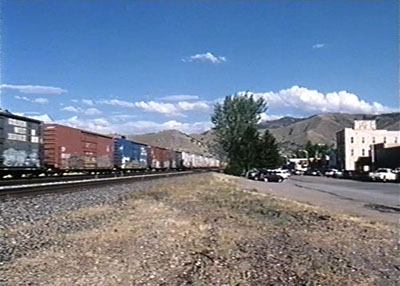 1. Small town; sound of the Mormon Tabernacle Choir, "The Battle Hymn of the Republic." Morgan, Utah
2. Desert; this is the only piggyback train (semi truck trailers on flat cars) in the film. Bagdad, California
3. Tennessee River Bridge; a fish jumps in the foreground about half way thru; two speed boats pass. Decatur, Alabama
4. City street crossing; mostly oil tanker cars. Winona, Minnesota
5. Dirt field; the train comes to a stop; half containers, half auto carriers. Angiola, California
6. White farm tanks; all box cars. Kearney, Nebraska
7. 
Amtrak
; Pacific Ocean; the only passenger train in the film. Gaviota Beach, California
8. Crossing tower; this crossing (of North/South and East/West tracks) in Ohio is a famous place to watch trains; there is a Rail Fan park 
right at the crossing; box cars and tanker cars; a few empty flat cars. Deshler, Ohio
9. Caliente Curve. Caliente, California
10. Cement coal tower; a local landmark. Prichard, West Virginia
11. White building (dusk); very close up; this is the first container train. Ralston, Iowa
12. Truckee River; in winter with snow on the ground; auto train. Polaris, California
13. Bonnet Carre Causeway; this is where the Kansas City Southern line crosses the spillway from Lake Pontchartrain; the sound is from a 1991 Nolan Ryan no-hitter and then a Karen Carpenter
Coke
commercial from 1970. Laplace, Louisiana
14. Bonneville Salt Flat; container train. Wendover, Utah
15. Tehachapi Loop; the train loops over itself; the longest shot in the film; you see the same train twice; all grain hopper cars; almost all the same. Tehachapi, California
16. Small town; the train stops and starts again; sound of the wheels overcoming its own weight. Marion, Pennsylvania
17. Hudson River; only shot of a work truck riding the rails; sound of a 
Huey
 helicopter (from Vietnam) passing overhead; the river looks as if it is Vietnam. Bear Mountain, New York
18. 
Elburn Farm Coop
; started as a communist coop in the early 1900s. Elburn, Illinois
19. 
Vetter Manufacturing
 building; family business from the early 1900s; lots of graffiti; old box cars; one of the cars 
is the same as from a train in 27 YEARS LATER; the box car is blue, green and red and very recognizable. Stevens Point, Wisconsin
20. Desert signal; two trains pass each other; the first carrying automobiles in enlarged white carriers called 
AutoMax
; the second having many oil tankers. Amboy, California
21. Echo Canyon; old box cars and tankers. Emory, Utah
22. Keddie Wye; this is a famous railroad landmark in northern California. Keddie, California
23. Feather River Canyon; the train looks like a model; the sound is of Gregory Peck reading from 
Revelations
 in the King James Bible. Paxton, California
24. East Main St.; this is the only work train in the film; the train goes down the middle of the street. La Grange, Kentucky
25. Lake Pontchartrain Causeway; causeway was damaged in the 2005 hurricane and repaired. Slidell, Louisiana
26. Prairie; sound of coyote. Champlin, Utah
27. Kudzu; very green. Vicksburg, Mississippi
28. Weber Canyon; two tunnels and bridges; the trains ride the rails in the opposite direction as normal; that is right side is up 
and left is down. Taggarts, Utah
29. Helper engines; 6 engines returning from helping a coal train over the mountain. Helper, Utah
30. Great Salt Lake Causeway; famous landmark; 20 miles south of the 
Spiral Jetty
. Lakeside, Utah
31. Cornfield; old box cars; off screen sound of road crossing signal. Hoytville, Ohio
32. Train yard; two trains; second one stops with a loud bang at end of shot.
33. Rice field; sound of Woody Guthrie singing the original version of 
This Land is Your Land
; later the verse about private property was mysteriously dropped. Nelson, California
34. Tule River Bridge; river is covered with red algae. Blanco, California
35. 
Rat Hole
; this is a nickname for an area of track in Kentucky that at one time had many tunnels; now there are just notches cut thru 
the rocky hillsides. This is the only example of a 
RoadRailer
; that is, a special semi truck trailer that takes train wheels; so the whole train 
is just semi truck trailers held together by wheels; there are no flat cars like the piggyback trains. Tateville, Kentucky
36. Fog. Manor, Pennsylvania
37. Snow. Truckee, California
38. Coal train (flatland); a mile long coal train; sound of President Eisenhower delivering his farewell address (1961), 
warning the nation of the military/industrial complex. Lusk, Wyoming
39. Commuter train; the only commuter train in the film. Guerney, California
40. Old factory; a long train carrying automobiles. Milwaukee, Wisconsin
41. Rincon Beach; sound is 
NWA
 singing 
Fuck the Police
. Seacliff, California
42. 
Wagner Mills
. Schuyler, Nebraska
43. Wind farm; wind farm in background; old tires in foreground; 
the train comes to a halt. Palm Springs, California