A Performance
Friday, April 4, 8pm (Promptly)
In his novel The Day of the Locust, Nathaniel West wrote:
"[Tod Hackett] was carried through the exit to the back street and lifted into a police car. The siren began to scream and at first he thought he was making the noise himself. He felt his lips with his hands. They were clamped tight. He knew then it was the siren. For some reason this made him laugh and he began to imitate the siren as loud as he could."
It is unlikely that Spanish musician Roc Jiménez de Cisneros (1/2 of Evol) thinks of Tod Hackett when describing his music. But the image of a man imitating a siren has a hold on me when I think about Evol using acoustic sources such as air horns to emulate electronic sounds produced by synthesizers. When writing about the work, Evol makes perfectly rational statements like, "we create music through a computer-generated algorithmic process," or "[our] rave synthesis is a recontextualisation of popular techno sounds, such as 'The Hoover' or the supersaw, out away from the dancefloor. It's psychedelic music…" Or they chain an exacting and absurd description together: "keywords: wormhole shubz, rave, elasticity, time dilation, chronesthesia, goo, hoover, hoover-stretching, hyperobject, slime, psychedelia, fractal, upward spiral, downward spiral, warping, hooliganism, mereology, horns, horny, tetrafluoroethane, acid, anti-humanism, mentasmic, climax, freeze-frame, recursive, poing, anthem, non-anthem, balloon, strobe, unrestricted composition, party boobytrap, palindrome, fold-in, continuum, squashed, monolith, asymmetry, climax denial, quasiperiodic, gabber, homeomorphic, recurrence, fluorescence, phosphorescence."
At Yale Union, Evol will present a commissioned, broken interpretation of Hanne Darboven's "Opus 17a" (1984) that he developed with British programmer Guy Birkin, and a piece for hand-held air horn.
Roc Jiménez de Cisneros was born in 1975 in Barcelona, Spain. In 2013, Evol released the album Something Inflatable on ALKU, a label run by Jiménez and his wife Anna Ramos. The name Evol is, of course, "the Padova N-body code for cosmological simulations of galaxy formation and evolution." And yet, évol is also Catalan for Sambucus Ebulus, a pretty elder plant with white flowers and berries that ooze purple juice, emitting a foul smell. "Foetid," apparently. Like rotting flesh.
Thank you to Dorothy Howard, David Senior, Lawrence Kumpf, and Issue Project Room.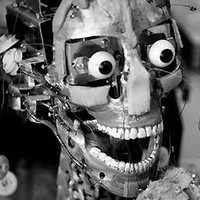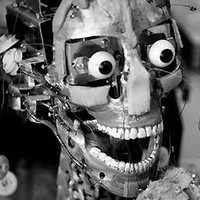 Download 320 kbps MP3
HERE
.