2019
April
March
251) ONYX ASHANTI
February
250) SILVIA KOLBOWSKI
2018
November
249) McINTYRE PARKER
248) EMBACI
August
247) JOANNA FIDUCCIA
July
246) CATHY WILKES
June
245) LARRY B
April
244) Geys Family goes to the Bowling Alley, Francis Mary meets Sahara
243) KEMPENS INFORMATIEBLAD, SPECIAL EDITION: YALE UNION
242) JEF GEYS
March
241) PHEW
240) CRAMPTON (2)
239) Yoko Ott becomes Executive Director
2017
DECEMBER
238) Kiln
237) CYBER MONDAY TOO. "Celebrate this season with the hottest deals on Vizio smart TVs, sound bars, and/or accompanying mounts! Due to tech-heavy artistic programming in 2017, Yale Union is able to offer some screaming deals."
NOVEMBER
236) OPEN CALL
235) Office renovations
234) Sprinklers installed throughout
233) Yoko Ott is new Deputy Director
OCTOBER
232) Woodshop renovations
231) DJ TOTAL FREEDOM
230) JENNIFER BARTLETT
229) KUCHAR
228) EVA BARTO
227) STEVEN WARWICK with DJ KATH & DJ PERFECT HEALTH at EMBERS
SEPTEMBER
226) Board of Directors approves exploratory seismic upgrade/parking lot development integration option
225) W.A.G.E. Certification !!!!!!!
AUGUST
224) Nic visits the vegetable garden of Francis Mary in Gabriac, in les Cévennes
JULY
223) Morgan & Flint collaborate in the woodshop
222) SADAF
221) MORAG KEIL & GEORGIE NETTELL, HELLPORT
220) Morag Keil, Georgie Nettel, and Nicholas Tammens visit Aberdeen, WA hometown of Kurt Cobain.
JUNE
219) DON AMIS
MAY
218) SCRAAATCH
217) LA HORA DE LOS HORNOS, HOUR OF THE FURNACES
216) THE COMBATIVE PHASE
APRIL
215) EMMA HEDDITCH
MARCH
214) CASE NO. TC 5245  YU CONTEMPORARY VS DEPT. OF REVENUE  OREGON & MULT. CO. ASSESSOR
213) KLEIN
FEBRUARY
212) N-PROLENTA
2016
DECEMBER
211) The New Year with MAHMOUD AHMED
210) ORCHARD GALLERY
209) ORCHARD SPREADSHEET 2016, R.H. QUAYTMAN
OCTOBER
208) Lula Jean Johnson Knapp is born, October 27
207) Brian Thackeray poached by big game hunters
206) Christian Oldham starts MFA at University of Washington
205) Richard Birkett, curator
204) LUTZ BACHER
203) Web Designers married on scissor lift (#assfestnw)
SEPTEMBER
202) JAMES FERRARO
201) CHRIS MANN
AUGUST
200) Andrea Lounibos, board member
199) AFTER ASPEN
JULY
198) DARYL SEAVER
197) TREES IN THE FOREST
196) SUSAN'S WorkSHOP
JUNE
195) MAHER SHALAL HASH BAZ
194) KIRSI PELTOMAKI
MAY
194) Julien Laugier enjoys his first muffin, Double Chocolate from Plaid Pantry
193) SUSAN CIANCIOLO
192) KAREL MARTENS
191) Lynn Hershman Leeson work removed from kitchen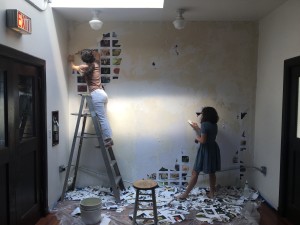 190) Board of Directors requests its first ever Executive Session at quarterly meeting (May 6, 2016)
APRIL
189) The floors of the main gallery are sanded, for the first time in over 50 years
188) Curtis becomes Jenny
187) Lighting grid in main gallery is expanded
186) 10th Avenue gets an entrance to YU, that is, a door
185) "Safety-based" lighting is installed in the woodshop
184) The boiler from the building's period as an industrial laundry is removed
183) R.I.P Common Room walls (2012-2016)
182) Yale Union Vs. Multnomah County Trial, Oregon State Tax Court (April 5, 2016)
181) JASON LESCALLEET
MARCH
180) JOHN RUSSELL
179) JOS & HARALD
178) Jenny announces her departure
177) MICHAEL SMITH, MIKE, & BABY IKKI
176) The woodshop gets a "safety-based" table saw
FEBRUARY
175) YOSHI & TASHI WADA
174) PHILL NIBLOCK
JANUARY
173) DIRTY PUPPETS
2015
DECEMBER
172) PAUL McCARTHY
171) JEFF PREISS
NOVEMBER
170) KARIN SCHNEIDER

169) M.E.S.H
168) Morgan Ritter, Artist, Preparator, Message Board Poetry, etc.
OCTOBER
167) ZIP: 01–01–14…12–31–14 YUJI AGEMATSU
166) MOMMY
SEPTEMBER
165) CLUB MORAL
164) ANNE-MIE VAN KERCKHOVEN at CASTILLO/CORRALES
163) Team Yale Union (Aaron Flint Jamison, Curtis Knapp, Nic Tammens, Sophie Desbordes) defeats Fondation Ricard and Centre Georges Pompidou in the annual Ricard Pétanque Tournament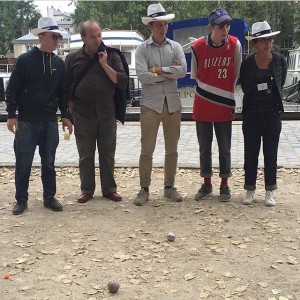 162) Sophie Desbordes, Pétanque Coach
AUGUST
161) The metric system is used for the first time, in Paris, France

160) RICHARD HAWKINS
159) JEFF WITSCHER
158) THEORY OF ACHIEVEMENT by CASTILLO/CORRALES
JUNE
157) RICHARD MAXWELL
156) ELYSIA CRAMPTON
MAY
155) WILLEM OOREBEEK
MARCH
154) Na Na Ponik is born, March 21
153) LOREN CONNORS
152) New handrails installed throughout
151) Tony Chrenka, Tech Prep
150) CHARLEMAGNE PALESTINE
FEBRUARY
149) MARK FELL
148) MIKE KUCHAR
2014
DECEMBER
147) Member and Volunteer Party with Venerable Showers of Beauty Gamelan Orchestra
NOVEMBER
146) DJ STINGRAY
145) JAMES HOFF
144) TERRY ATKINSON/RICHARD BIRKETT
143) TERRY ATKINSON
OCTOBER
142) RAE ARMANTROUT
141) KEVIN DRUMM
SEPTEMBER
140) STUART DEMPSTER
139) VANESSA PLACE/ALEX FLEMING
138) PARK MCARTHUR
AUGUST
137) PRINT SHOP moved to first floor, expanded studios rented to Andersen Construction, Rainmaker Artist Residency, Cocanu, and Roseline Coffee
136) Sprinklers installed in the woodshop, emergency exit lighting throughout
JULY
135) Michael and Emily get Married
134) Christian Megazord takes over Yale Union tumblr
JUNE
133) MICHAEL SNOW
132) GRAHAM LAMBKIN
MAY
131) ANDREW LAMPERT
APRIL
130) YUJI AGEMATSU
129) EVOL
MARCH
128) Yoko Ott, Board Member
127) A studio for resident artists is completed
126) Yale Union gets its first static IP address and creates a VPN for employees/board members
125) The building's plumbing/flooding issue solved
124) MADALYN MERKEY
FEBRUARY
123) LUBOMYR MELNYK
JANUARY
122) THE DEVIL, PROBABLY
121) Steve van Eck, Board Member
2013
DECEMBER
120) ANNUAL REPORTS published
119) MEMBERSHIP PROGRAM relaunched
NOVEMBER
118) LIZ LASER
117) BEST AVAILABLE TECHNOLOGY
116) MARJORIE PERLOFF
115) Member benefit event for Commissioners
OCTOBER
114) LYDIA DAVIS
113) RP BOO/DJ MANNY
112) DAVID GRUBBS AND SUSAN HOWE
111) SUSAN HOWE
110) Gift of Yale Union Laundry Building to Yale Union
SEPTEMBER
109) AARON DILLOWAY
108) Brian Thackeray, Building Super
AUGUST
107) SADIE BENNING
JULY
106) LUCY SKAER
105) Offices leased to Chroma
104) Rex Ritter, Board Member
JUNE
103) ELLEN FULLMAN
102) ALVIN LUCIER
102, a) Nic Tammens, Assistant Curator
MAY
101) ANDREA ANDERSSON
100) HIEROGLYPHIC BEING
99) Thomas Boutoux, Board Member
APRIL
98) MICHAEL STIRLING
97) KEIJI HAINO
MARCH
96) THOM ANDERSEN & MORGAN FISHER
FEBRUARY
95) STEPHEN SCOBIE
94) CHARLES CURTIS
93) Umpqua Private Bank and Vista Ridge Capital dinner series begins, prepared by St. Jack
92) Emily Thackray, Volunteer Coordinator
JANUARY
91) CURTIS ROADS
90) DOUGLAS SIRK
89) ANGIE KEEFER
2012
DECEMBER
88) WALTER MARCHETTI
87) Rapaport supports the LIBRARY
86) The Andy Warhol Foundation for the Arts grant received
NOVEMBER
85) CHANTAL AKERMAN
84) CHRIS KRAUS
83) AVIGAIL MOSS
82) CHARLES BERNSTEIN
81) Two more bathrooms built
OCTOBER
80) HELKE SANDER
79) TIM JOHNSON
78) CAITLIN MURRAY
77) MARK FELL
76) MARIANNE WEX
75) Garage leased to Cocanu and Roseline
74) Mark Lewis, Music Curator
SEPTEMBER
73) Cinema Project, Artists in Residence
AUGUST
72) FISCHLI & WEISS
JULY
71) ALVAR AALTO
70) WILL HOLDER
69) STUART BAILEY
68) IAN HAMILTON FINLAY
JUNE
67) SAUL STEINBERG
66) Large "Perfect Fit" advertisement on side of building is painted over
65) Gallery designed and built, COMMON ROOM
64) Lauralee Martin, Vice President of the Board
MAY
63) BLACK DICE
62) MAHMOUD AHMED
61) Dave Senior, Board Member
60) Trees planted outside building
APRIL
59) DONALD BARTHELME
MARCH
58) TOM BLOOD
57) DANIEL MENCHE
56) SHANNON EBNER
55) BENJAMIN THOREL
54) Website redesigned
53) Amanda Clem, Communications
52) Steve van Eck, Deputy Director
FEBRUARY
51) YU is robbed
50) JOHN CAGE
49) Member benefit dinner prepared by chef Naomi Pomeroy
JANUARY
48) Shannon Baird, Board Member
47) Diana Kim, Secretary of the Board
46) Aaron Flint Jamison, President of the Board
45) Adam Forkner, Music Curator
44) Jenny Martin, Operations Manager
43) Scott Ponik, Designer
42) Hope Svenson, Curator
41) Robert Snowden, Curator
40) Curtis Knapp, Director
2011
NOVEMBER
39) State of the Union, Junior Blazer Dancers
OCTOBER
38) SUZANNE COTTER
JULY
37) TOM MARIONI
36) Gary Robbins, Offset Printer
35) West Coast built
JUNE
34) MICHELLE STUART
MAY
33) PCVA
32) Screening room built
APRIL
31) Christian Oldham begins assistance
30) Amanda Clem, Communications Assistant
MARCH
29) Member benefit dinner prepared by chef John Taboada
28) Library conceptualized with Scott Ponik
FEBRUARY
27) Hope Svenson, Researcher
JANUARY
26) Martin family recurring gift received
2010
NOVEMBER
25) Inaugural event, Mayor Adams speaks, tightrope walker
24) Website launched
OCTOBER
23) Alex Mahan, Web Developer
SEPTEMBER
22) Neal Morgan, Communications
21) Jenny Martin, Development Assistant
JUNE
20) First venue rental
MAY
19) Sandra Percival, Director
JANUARY
18) Construction plan set and pricing by Accelerated Development
2009
SEPTEMBER
17) IRS and Oregon 501 C3 status filed; Board formed
APRIL
16) Marian Slakie, Bookkeeper
15) Adam Forkner, Recording Studio Manager
MARCH
14) Veneer issue 06 printed in house
FEBRUARY
13) Project book with feasibility study published
JANUARY
12) Emily Johnson, Letterpress Printer
11) Print shop built
2008
DECEMBER
10) Recording studio built
OCTOBER
9) Kitchen and bathroom completed
AUGUST
8) Feasibility study undertaken by Boora Architects
JULY
7) Kitchen and bathroom construction by Accelerated Development
MAY
6) Waste Management account initiated
5) Woodshop and administrative offices established
APRIL
4) GEORGE KUCHAR
3) Dean Chen, CFO
MARCH
2) Curtis Knapp and Aaron Flint Jamison, Founders
JANUARY
1) Purchase of Yale Union Laundry Building